Alderton Dispensary
As a practice we take great pride in providing an excellent and reliable service for all of our patients and the wider community. In the short term, to continue to offer our quality of service, we are changing the opening times of Alderton dispensary on Fridays only for the forseeable future; the dispensary will open at 9AM. This is due to staff shortages and we are acting to return to usual service as soon as we are able.
There may be unforseen short notice closures, we will endeavour to keep our patients updated of these changes. We apologise for any disruption.
Thank you for your understanding.
Our dispensary is now operating a 3 working day turn around on all prescription requests. The Dispensaries at Alderton & Orford are now serving from the hatch inside the surgery. We would like to encourage patients to social distance where possible and wear a face covering unless exempt.
How to Order Repeat Prescription Medication
Online: via the link at the top of this page. Before you are able to use this service you must first register for Online Access, please complete the Online Access Form and return to reception.
In person: Put your requests for repeat prescriptions into the boxes marked 'Repeat Prescriptions' in the entrance area of each surgeries.
By post:
Collection Repeat Prescriptions
Please allow 72 hours (3 days), excluding weekends and Bank Holidays, for your request to be processed.
Saturday and Sunday are NOT working days so are NOT included in the 72 hour rule. (Bank Holidays are also NOT included).
Please allow extra time over busy holiday periods.
Alderton
| | |
| --- | --- |
| Drop off day | Collection day |
| Monday | Thursday |
| Tuesday | Friday |
| Wednesday | Monday |
| Thursday | Tuesday |
| Friday | Wednesday |
| Saturday | Thursday |
| Sunday | Thursday |
Orford
| | |
| --- | --- |
| Drop off day | Collection day |
| Monday | Friday |
| Tuesday | Monday |
| Wednesday | Monday |
| Thursday | Wednesday |
| Friday | Thursday |
| Saturday | Friday |
| Sunday | Friday |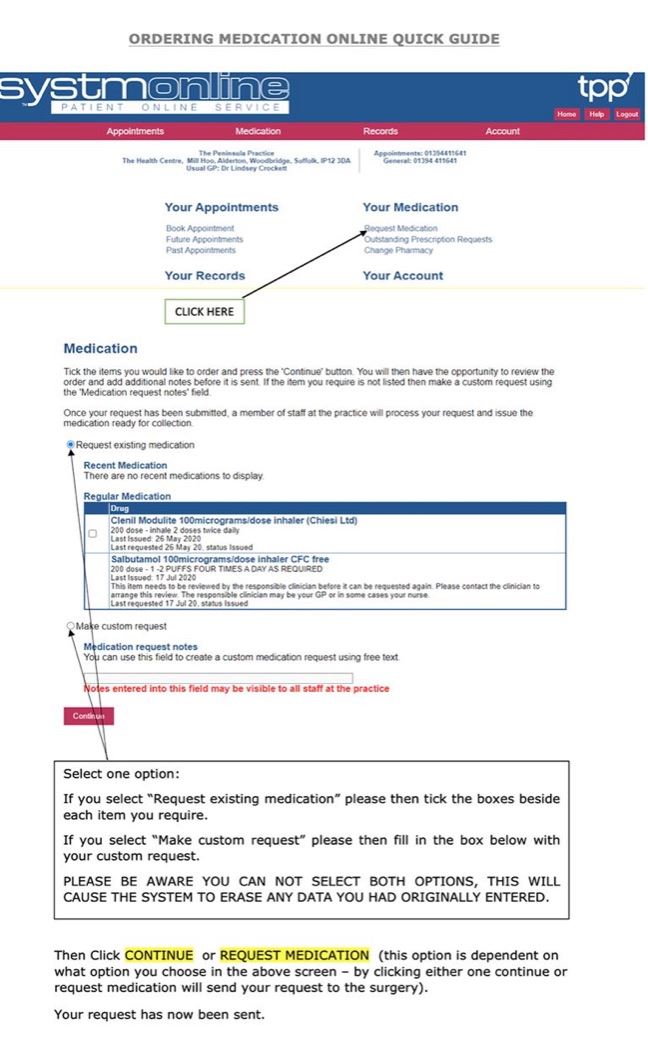 Over the Counter Sales
Alderton and Orford dispensaries offer an extensive range of over the counter products at a competitive rate. Please ask if we do not have the product you are looking for, as our dispensers will be happy to try and order the item for you.
We accept all major debit and credit cards.
Delivery Service
The Peninsula Practice runs a Delivery Service for patients who have difficulities getting to the surgery. This service is totally free and our own excellent staff will be carrying out the deliveries therefore will be totally safe and confidential. If you would like to be considered for this service please contact the dispensary staff.
Exclusions do apply so please contact dispensary staff for details.
Prescription Fees
Help with NHS costs
In England, around 90% of prescription items are dispensed free. This includes exemptions from charging for those on low incomes, such as:
those on specific benefits or through the NHS Low Income Scheme
those who are age exempt
those with certain medical conditions
More information is available at NHS Choices
NHS Prescription Charges
New Prescription NHS Charges from 1st April 2021. These charges apply in England only. In Northern Ireland, Scotland & Wales prescriptions are free.
£9.65 per item
£31.25 for 3 months
£111.60 for 12 months
You will be charged the new amount if you collect your prescription on or after 1 April even if your GP issued your prescription before this date.
Proof of Prescription Exemption Payment
Proof of exemption for prescription payment MUST be shown when collecting your presciption otherwise medication may not be given. This is in line with Pharmacy Regulations, and could result in you being fined by the National Health Service Business Authority (NHSBSA) if exemption card is not shown.
We as a surgery are also penalised for not enforcing this. Please help us to help you.
Prescribing Over The Counter Medication
Ipswich and East Suffolk Clinical Commissioning Group does not support the prescribing of medication that is available to buy from local pharmacies or supermarkets for children or adults with common illnesses and minor ailments that they could treat themselves at home.
Please click on leaflet below for an example list of such medications.
Prescribing Policy for Patient Travelling Abroad
This policy outlines the procedure for patients travelling abroad for short and long periods of time.
NHS Policy By law, the NHS ceases to have responsibility for the medical care of patients when they leave the UK. In addition GPs are not required by their terms of service to provide prescriptions for the treatment of a condition that is not present and may arise while the patient is abroad.The NHS does accept responsibility for supplying ongoing medication for temporary periods abroad of up to 3 months. However, if a person is going to be abroad for more than 3 months, then they are only entitled (at NHS expense) to a sufficient supply of regular medication in order to get to their destination, where they should the find an alternative supply of that medication.Patients residing abroad for a period of more than 3 months should be removed from the registered patient list.
Travelling out of the country for less than 3 months For patients who inform us they will be out of the country for less than 3 months, we will provide sufficient medicines for an existing condition for the period while the patient is away where it is safe to do so. Drugs that require frequent monitoring may not be prescribed where there are safety concerns.
Travelling out of the country for more than 3 monthsPatients who inform us they will be leaving the country for more than 3 months will be prescribed sufficient medication to enable them to make alternative arrangements at their destination (up to 3 months' supply where safe to do so).They will also be removed from our patient list. We will be pleased to re-register patients on their return to residence in the UK and can reassure patient that their electronic notes are kept on file for reference on your return. Patients and relatives should not seek medication for themselves while they are abroad as this constitutes NHS fraud.
Prescriptions for medicines in case of illness while abroad.GPs will only prescribe NHS prescriptions in this case for exacerbations of pre-existing illnesses; e.g. antibiotics for patients who have frequent infections secondary to an underlying lung condition.
Patients should be aware that some drugs commonly prescribed in the UK may be illegal in certain countries and you should check with that countries embassy before you travel.